Cantilever  Lift & Roll Boxes
Custom Hydraulics Equipment Manufacturing, Industrial Equipment Repair, Replacement Parts and Field Service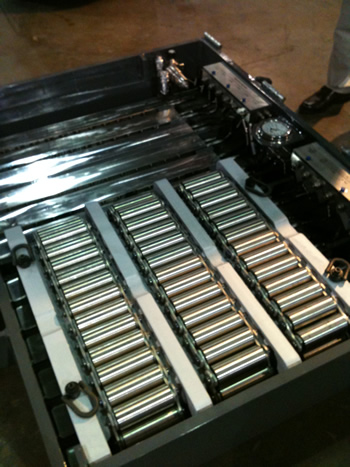 Hannon Hydraulics custom designs and manufactures Lift & Roll box systems with rated pressures up to 10,000-psi and rated lifting capacities up to 4,000 tons.
Our cantilever systems uses the lift & roll boxes to lift the cantilever up off the skid beams and support it on rollers and allow the cantilever cylinders to engage and move the derrick as it rides on the rollers. Our system consists of two cantilever lift and roll boxes and an HPU. Each Lift & Roll box contains multiple jacking cylinders, roller assembly, and stainless steel control valving with stainless plumbing.
The cylinders have multiple pistons in its stainless steel jack body and are controlled by a manifold of needle valves and a pressure regulator. Valving is protected by a hinged stainless steel lid which is engraved with the system schematic. The roller assembly rides atop the jacking cylinders and is contained within the box.
The high pressure HPU is air powered and provides up to 10,000-psi oil supply pressure to each box. Boxes are welded steel construction with gasketed access covers and lifting eyes.
All equipment is provided fully assembled, pressure and function tested, painted with marine 3-part coating and manufacturing record books.
ABS and DNV certifications are available.
We work to all certification needs. If you need installation and training, Hannon has a team that offers commissioning services. All of our equipment comes with a warranty.