Marine Riser & Guideline Tensioner Equipment Manufacturer
Custom Hydraulics Equipment Manufacturing, Industrial Equipment Repair, Replacement Parts and Field Service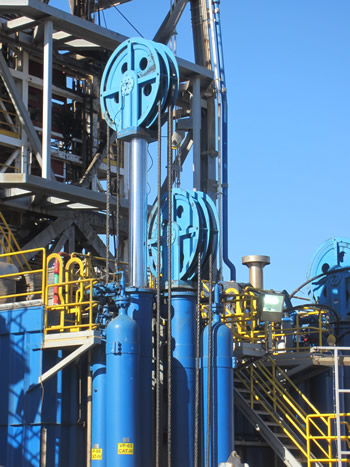 Hannon regularly works on tensioners, such as marine risers, guideline, and direct acting tensioners. We have the ability to repair, recertify or manufacture to your needs.
80K up to 300K
2400-psi to 3600-psi
Single or double acting
Single or dual mount
Wire rope or chain
Velocity control by

Anti-recoil valve or fluid cushioning.
Hannon also offers enhanced corrosion resistance on new and rebuilt cylinder rods by coating with chrome over nickel plating or laser clad with Inconel 625.
Our MRT's, GLT's, and direct acting tensioners can directly replace existing units or we offer custom designs to upgrade tensioning capabilities without modifying the existing rig structure or mounting configurations.
All equipment is provided fully assembled, pressure and function tested, painted with marine 3 part coating and manufacturing record books.
ABS and DNV certifications are available.
We work on any size and to all certification needs. If you need installation and training, Hannon has a team that offers commissioning services. All of our equipment comes with a warranty.