Primary & Secondary Tensioning Systems Manufacturer
Custom Hydraulics Equipment Manufacturing, Industrial Equipment Repair, Replacement Parts and Field Service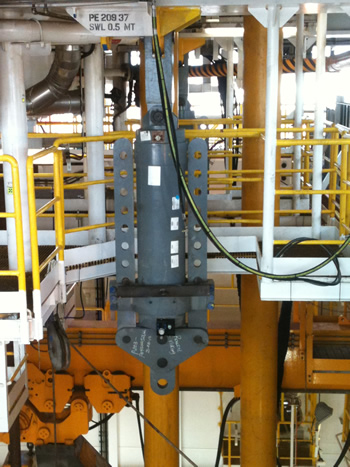 In conjunction with our motion compensation systems, Hannon also can provide primary and secondary tensioning options for your needs.  Our blowout preventer lift systems are an add-on option comprised of multiple remote operated cylinders and can be custom designed to support BOP stacks and tension BOP conductor pipes.
Our BOP Lift Systems include an accumulator skid, control panel and a valve manifold for each cylinder.
Accumulator skid is wall mounted with nitrogen gas bottles and individual bladder accumulators to provide motion compensation travel for each cylinder
Control panel is stainless steel with a pressure gauge, custom tonnage gauge and an individual valve control for each cylinder.
Valve manifold is bolted directly to the cylinder port and provides load holding and flow fuse protection in case of line break to the cylinder.
The stainless steel skid and frame are blasted and painted with a three-part marine coating system and assembled with hoses and stainless steel tubing.
All equipment is provided fully assembled, pressure and function tested and manufacturing record books.
We work to all certification needs. If you need installation and training, Hannon has a team that offers commissioning services. All of our equipment comes with a warranty.